To add a product to your Member365 store, follow the steps below!
Navigate To Store Management
1. From the administrator dashboard, click 'Modules' in the top toolbar.

2. In the drop-down menu that appears, scroll to 'Store', and click 'Create Product'.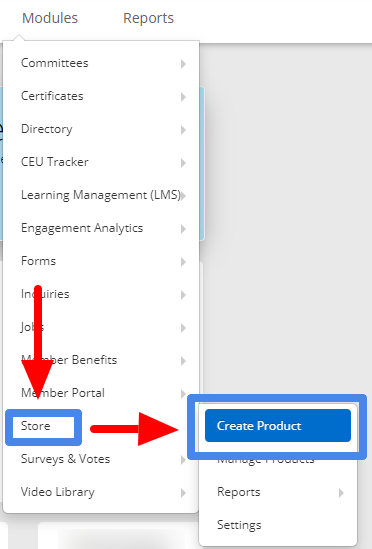 Configure Your New Product Listing
3. Write the product name and description you would like displayed to customers in the fields pictured below.
4. Use the following drop downs and toggles to configure your product listing. You can find a description of each below.
Category: Select, or Add a Category that this product would fall under. example: T-shirt as a product, Clothing as the category
Type: Different types of products can be a standard product tangible item, a download product ie. an e-book, or test, or a Donation Campaign, set up donations as a product for members or contacts to purchase.
Member Price: Identify a price that your members will pay for this item
Non-Member Price: Input a charge for non-members purchasing this item
Quantity Available: Enter the quantity available for purchase, if there is unlimited click the unlimited option
Shipping: Apply shipping charges to this product by toggling this on (to green)
Shipping Blacklist Countries: Select countries that you cannot ship too if necessary by clicking Manage
Product Images: Upload images of the product for members and non-member contacts to see
5. When you've finished configuring your product listing, click 'Add Product'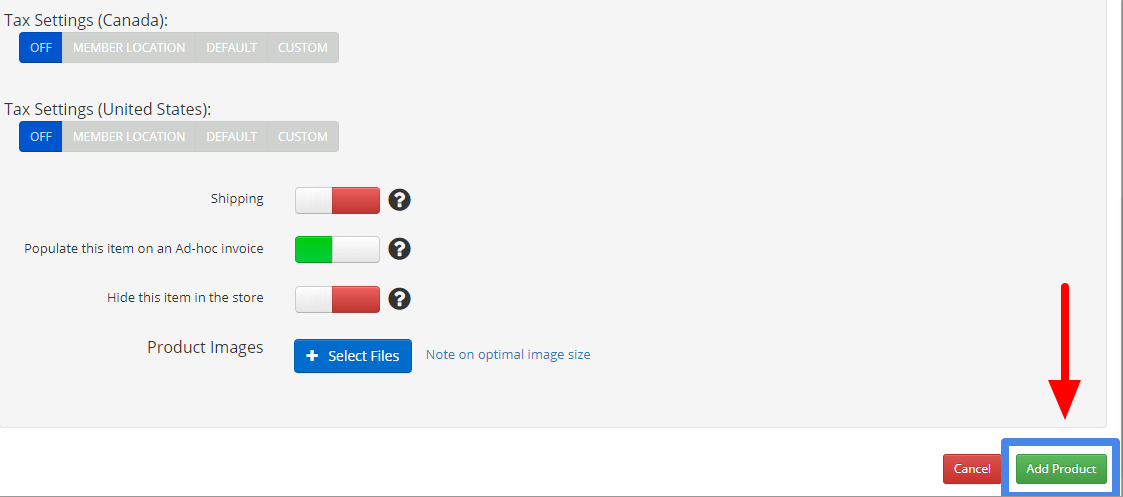 Congratulations! You now know how to add a product to your online store!