You can enroll an existing Contact into a new Membership from the Administrative Dashboard. The method outlined in this article is perfect if you're looking to add someone to a Membership quickly or if you don't want an automatic Membership Invoice to be generated. For the more formal process, see this Knowledge Base article.
Please note that none of the automatic processes will be enacted: as an Administrator, if you follow this method, you will need to create a manual Invoice for any Membership Fees, and you may need to grant the Member Portal Access manually as well. Those steps will be outlined later in this article.
1. From the Member365 Administrator Dashboard, type the contact's last name or email address into the search bar at the top of the page.
2. Click your desired contact from the search results to access their Contact Record.

Enrolling the Contact
3. Click to expand 'Membership Enrollment' on the right of the page, then click '+ Enroll Now.'
4. A pop-up window will appear. Specify the 'Membership Category.' If it is an organization or group membership, it will request you confirm the organization or group for that membership and the contact. Enter the 'Fee Category' is applicable, the 'Inception Date,' and the 'Renewal Date' for the contact's membership enrollment. Check the box 'Send a welcome email with login credentials that will allow this contact to access the member portal if you want the member to have Member Portal access and be sent the member welcome email. Click '+ Enroll' to confirm.
IMPORTANT NOTE: You are enrolling this contact as a primary membership holder for this organization. If you are attempting to give this contact an employee account, please go to the Organization Record and click on the Employee Account tab in the left side menu.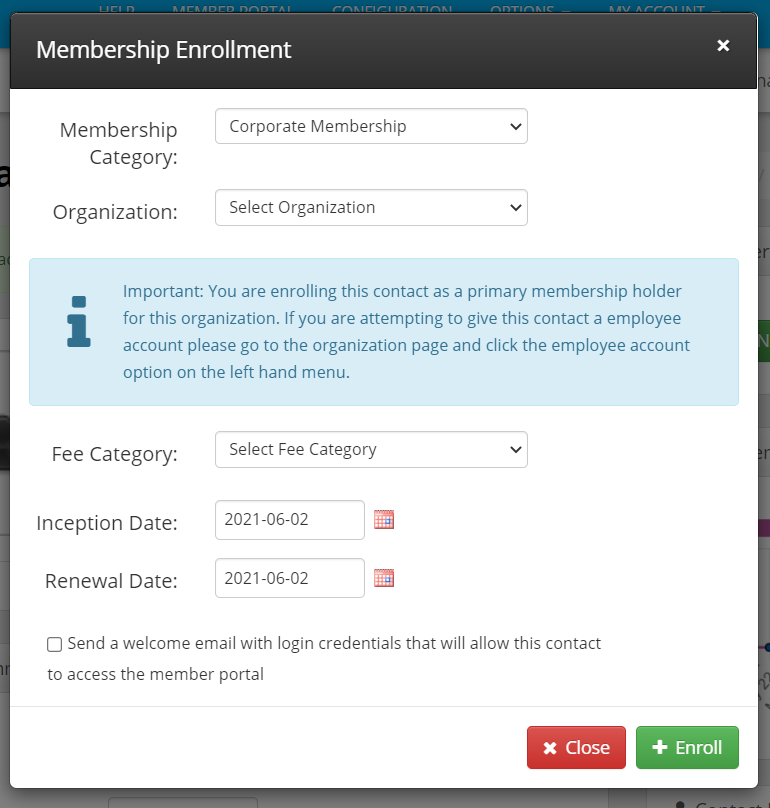 5. A confirmation message should appear. You have successfully enrolled the contact into their new membership.
Invoicing Membership Fees
This step is optional. Since this Manual Enrollment Method does not create a Membership Invoice automatically, you will need to create a Manual Invoice if you wish to charge the Contact.
Consult this Knowledge Base article to learn how to create a Manual Invoice!
Congratulations, you have enrolled a contact into a new membership!