This knowledge article will show you how to create an invoice within Member365.
Creating a New Invoice
1. Log in to your Member365 Administrator Dashboard.
2. On the top bar, hover over 'Financial'. In the financial dropdown section, click 'Create Invoice'.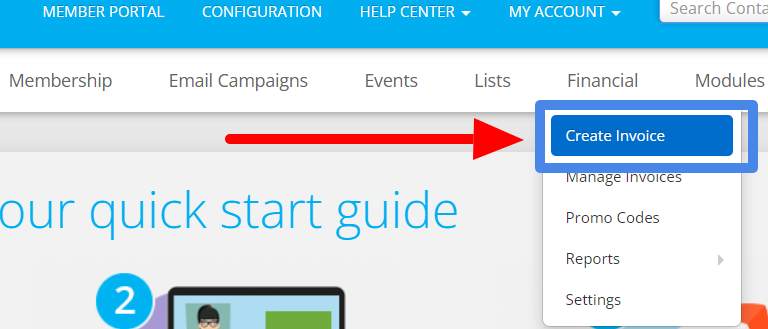 3. In the 'Find a Contact' search bar, enter the name or email address of the person to whom this invoice applies.
Basic Invoice Details
4. Enter the invoice date and the purchase order number.
Entering Line Items
5. Click 'Enter item description' and enter a description of the first product, good or service you are adding to the invoice.
6. Click on '# Units' and enter the number of units of this item you are selling.
7. Click on 'Enter Unit Fee' and enter the cost of this item per unit.
8. Click on the drop-down menu in the 'Tax' column and find the region whose tax rate applies to the current line item.
9. Under 'Account', click the drop-down menu and click the code that corresponds to the nature of the invoice.
10. If additional items beyond the first will be charged to the recipient, click 'Add a Line Item' and repeat steps #5-9.
11. Use the text editor under 'Terms' to add any additional text or otherwise define the terms of this invoice; by default, the terms read "Payment due upon receipt", but you are free to omit or change this.
Completing the Invoice
12. Below the terms, you will find a number of options corresponding to the completion of the invoice.
Save as Draft
Save as Final
Send by Email
Process Payment
Select this to save the invoice for later use; it will remain in place to be edited but will not be considered when calculating Accounts Receivable.
Should you wish to process this invoice now, please see our Knowledge Base article on processing a cash payment or our article on processing check and credit payments.
Congratulations, you have created an invoice!