If you are seeing red lines through names of members or other contacts, you are most likely attempting to compile or export a list. These red lines appear when you are trying to create a list that contains members who have not consented to receive email or other electronic messages from your organization. If you are using this feature to create a list for an email campaign, please exercise extreme caution when exporting a list containing red lines through any contact names: making sure you comply with local anti-spam laws and avoiding communications to which your contacts have not consented will help avoid complaints and legal penalties.
Electronic Communication Consent Law in North America
Canada's Anti-Spam Law (CASL) and the CAN-SPAM Act in the United States both govern their respective country's policies on commercial electronic messages and the conditions that must be met for consent to be legally recognized. Violating either law comes with severe penalties, and of course sending messages without consent does not reflect well upon an organization.
How to Add Email Consent to a Contact
Click on the name of the contact in the list.
The system will bring you to the View Contact Details page. You then need scroll down to the Consent Settings and click on the following options: Request/Assign from either the Expressed or Implied Settings Type.
Expressed Consent - This designation means that the recipient has explicitly agreed, orally or in writing, that they have consented to receiving commercial communication.
Implied Consent - This designation means that the contact has either:
1) Published their contact information in plain sight, as in the case of a website or trade publication.
2) Established an existing business relationship with you, like a commercial contract, transaction, or inquiry related to the exchange of goods or services.
3) Established a non-business relationship: this contact is a member of your organization, or they have provided goods/services at no cost.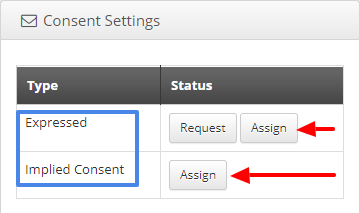 Clicking on the 'Request' button will prompt the system in sending an email to the contact requesting for email consent. The email template will allow you to review and update the verbiage of the message.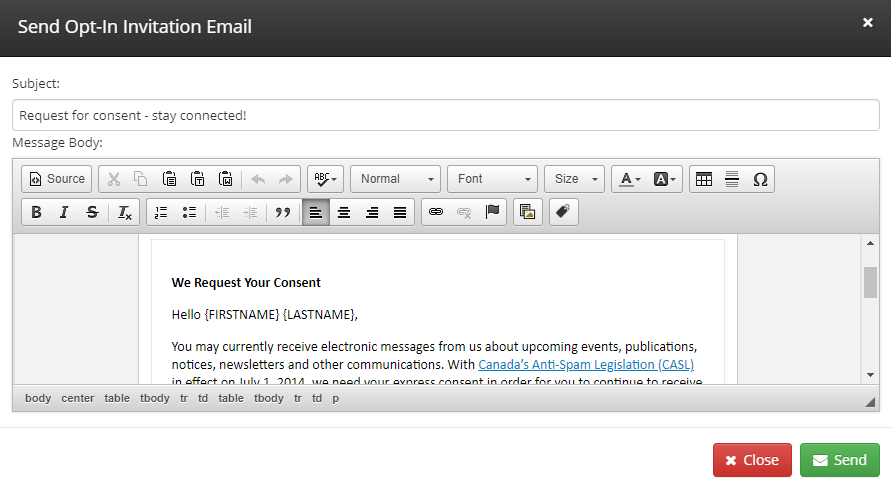 If you can see the 'Assign' button next to 'Implied Consent' / 'Expressed', then you know the Contact is not yet opted in. If the Contact already had Implied Consent, there would be a date listed in that field instead.
Once you click the the 'Assign' button, you can leave notes to document that email consent has been received from the contact.
Please Note:
All Members in Member365 have Implied Consent so that they can receive Email Communication from you, unless they choose to Unsubscribe. Implied Consent is granted automatically when someone becomes a Member, and lasts for the duration of their Membership plus an additional two years, unless the Member chooses to Unsubscribe.
Congratulations, you now know how to manage your email consent settings!