After planning your setup and evaluating your requirements, you are ready to build your Membership Category!
WHAT IS THE NAME OF YOUR MEMBERSHIP?
Every Membership Category in Member365 will have its own name. Decide which Membership Category you are building, and enter its name when prompted.


WHO WILL OWN YOUR MEMBERSHIP?
Recall the three Membership Types that we covered in the Planning phase. Choose whether you are creating an Individual Membership, a Group Membership, or a Family Membership.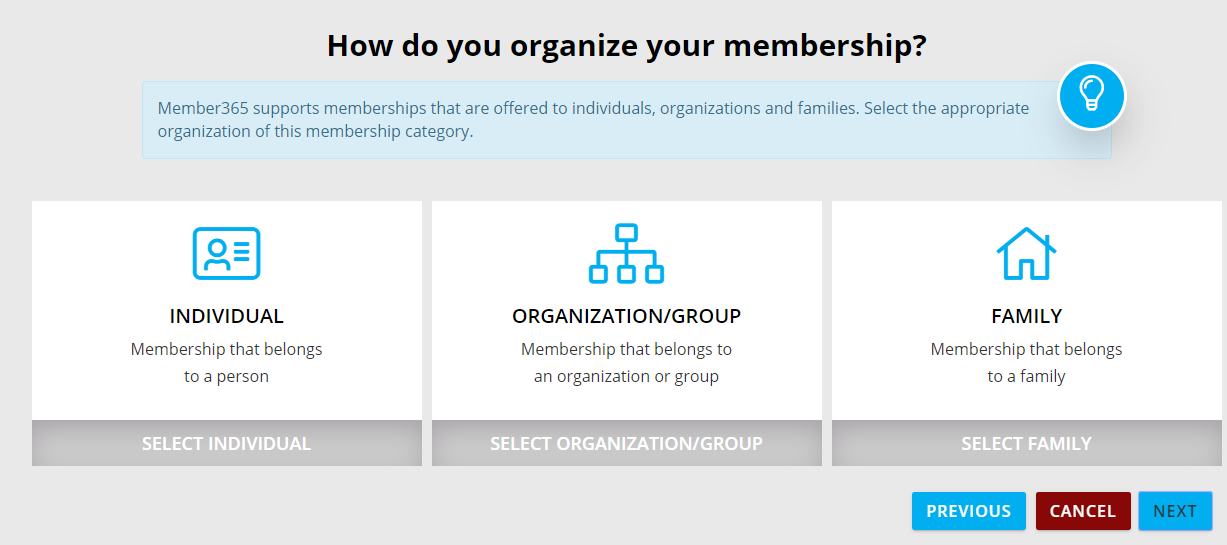 FOR GROUP AND FAMILY MEMBERSHIPS:
You must specify how many Group Members each enrollment will provide. When someone purchases this Membership, how many people can they add?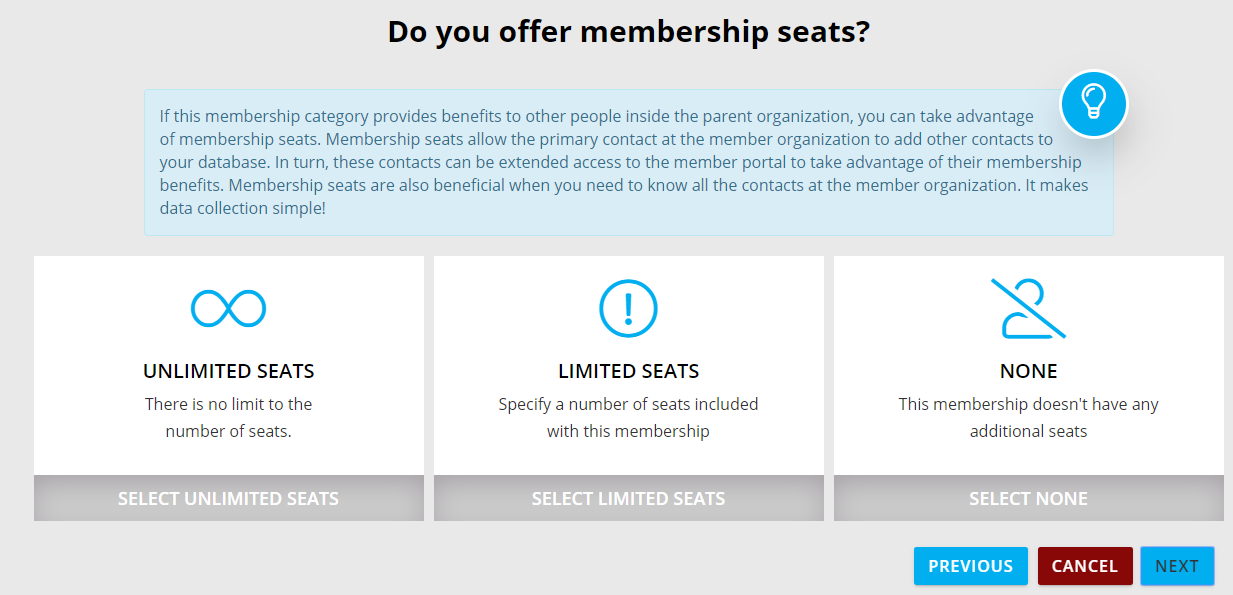 HOW OFTEN WILL MEMBERS RENEW?
We evaluated the Renewal Period during the Planning phase. Select how often these members will renew from the four options: Lifetime, Anniversary Date, Annual, or Term.

WHAT DO PROSPECTIVE MEMBERS SEE WHEN APPLYING?
Write your Membership Description. The content that you add here will display for prospective members when they apply for this Membership Category.
HOW MUCH DOES MEMBERSHIP COST?
Enter the dollar amount of your Application Fee for the Membership Category, and your Renewal Fee if applicable. The values you enter will be the amount that members are charged. If you would like the Application or the Renewal to be free, use the relevant check-box to indicate as such.

CONFIGURE YOUR TAX SETTINGS
Beneath the Membership Fees, you must specify how tax will be charged on Membership Dues. You have the options to charge no tax, tax based on the member's location, the same default tax regardless of member province/state, or a more advanced custom amount that we will cover in the Financial tutorial.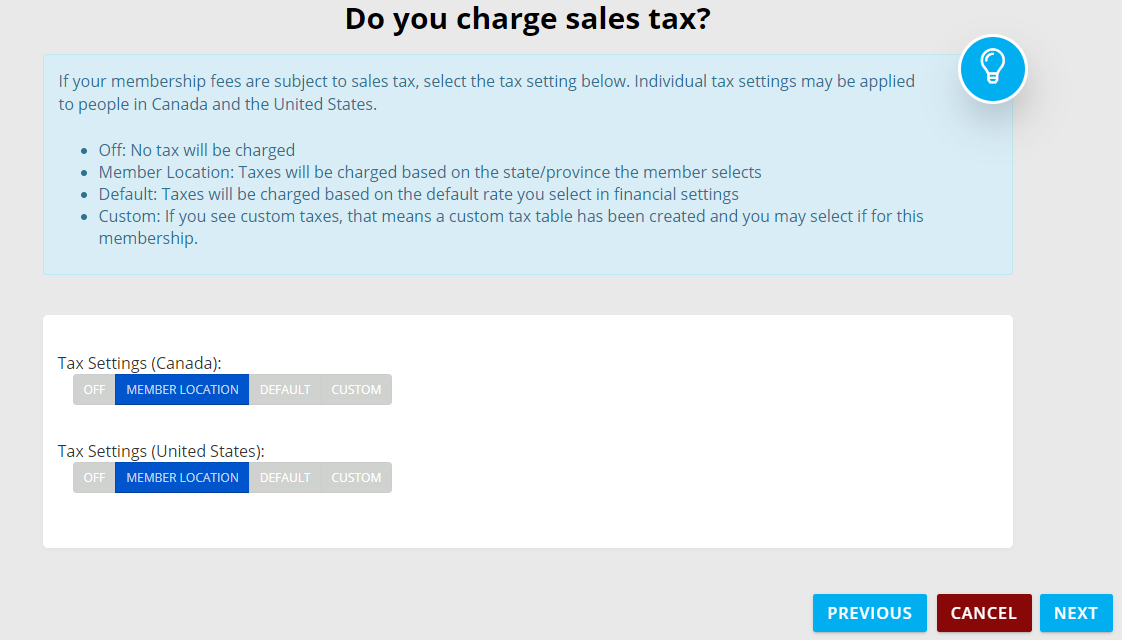 HOW WILL PROSPECTIVE MEMBERS PAY?
Finally, you must choose how your prospective members will pay their dues. You can let applicants choose between Credit Card and Cheque, or you can force them to pay through one method by disabling the other.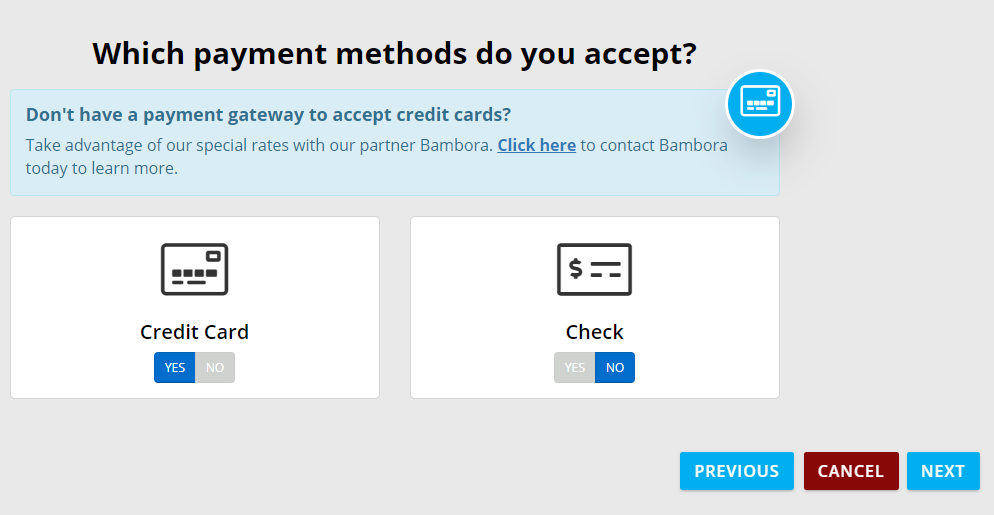 YOU'RE DONE
Congratulations! You have created your first Membership Category with the Simple Membership Builder. We can now start the Advanced Configuration, we can Import Members, and we can run a Test Application.

REVIEW YOUR SETTINGS
After configuring your Simple Membership Category, scroll down further to view a summary of its settings. Anyone can now apply for this Membership if they have its Membership Registration URL/Link.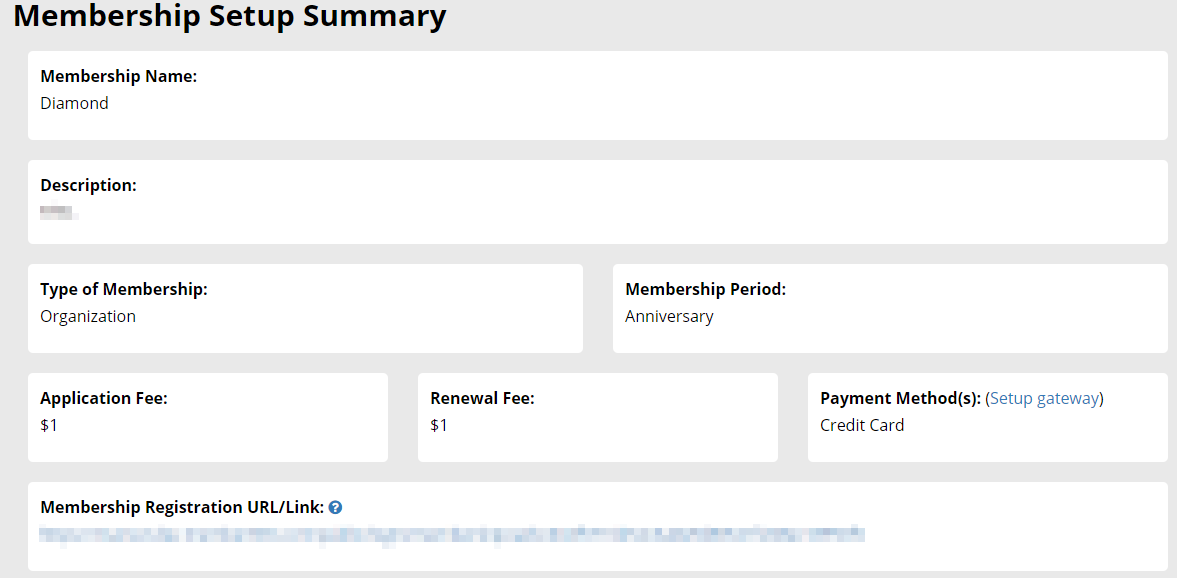 If you notice anything that needs to be changed, we can correct it if we 'Go to the Advanced Settings'.
Otherwise, if everything looks good, you are safe to 'Exit the membership wizard'.